New data released this week underscore the fact that smaller numbers of unionized workers mean less bargaining power, a weakened middle class and lower wages for everyone.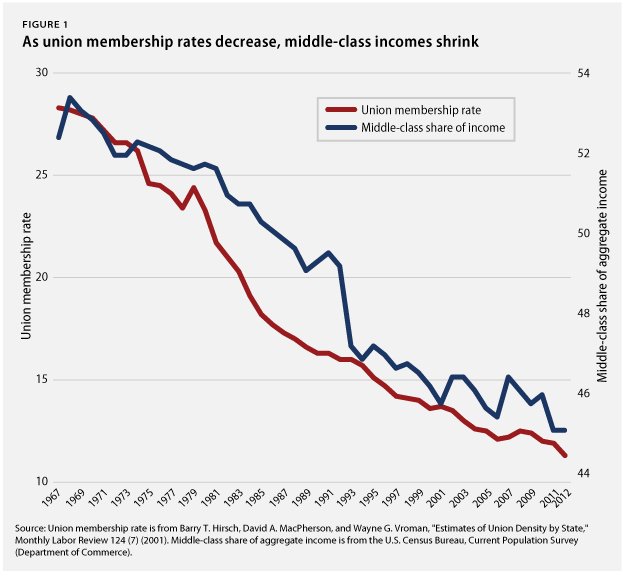 On Tuesday, the U.S. Census Bureau released its annual report on incomes and poverty.  According to the report, the median household income in the U.S. in 2012 was $51,017, and not much different from the 2011 median income of $51,100.  However, when you look at the median household incomes over the last 25 years, the median household income in 1989 was $51,681—meaning that a typical middle class family earned more in 1989 than middle class families did last year.  The nation's official poverty rate in 2012 also remained stagnant at 15 percent, representing 46.5 million people who are living at or below the poverty line.
Another study this week from Center for American Progress builds on the U.S. Census Bureau data and links the slide of middle class incomes to the decline in union membership since the 1960s.  Between 1967 and 2012, union membership fell from 28.3 percent of all workers to 11.3 percent in all 50 states.  The decline in union membership is reflected in the decline in the share of the nation's income going to the middle 60 percent of households, which fell from 52.3 percent to 45.7 percent over the same time period.
As the gap between the rich and poor continues to grow, it's clear that something needs to be done to rebuild the middle class.  Making it easier for workers to stick together in a union to bargain for better wages and benefits is a good place to start.
---
UFCW Local 1546 represents workers in Illinois and Indiana in a diverse range of industries including grocery and drug retailers; meat cutting, processing, and packing; chemical works; nursing home and healthcare facilities, and many others.